WillSharpen.com is a proud seller and authorized service center for Bucchelli brand clippers and Bucchelli clipper blades. We have been selling these clippers and blades for a while and have received excellent feedback from our customers. These clipper blades really do hold up to their reputation!
The Bucchelli brand offers unparalleled quality products. Rather than allowing an acceptable range of steel Rockwell Harness, Bucchelli ensures that all their clipper blades are made from a high carbon Japanese steel with a HRC of 62. This HRC level is ideal for durability and smooth cutting performance. The blades are heat treated and ice tempered for longer life, and they keep a sharp edge and run cooler. Their clippers come with a limited warranty. Don't forget: we are an authorized service center for Bucchelli.

All Bucchelli Series A clipper blades sold at WillSharpen are compatible with any A-5 style clipper, and all Bucchelli Series D clipper blades are compatible with all D-type clippers including the Bucchelli D clipper sold on our website. Since Will Sharpen, Inc. is a professional clipper blade sharpening provider, your Buchelli purchase opens the door to a lasting business relationship as we can help keep your Bucchelli Clippers and Blades sharp and maintained.

Bucchelli clipper blades feature:
‧ High carbon Japanese surgical steel
‧ Heat treated and ice tempered for longer life
‧ Rockwell hardness rating of 62 degrees
‧ Runs cool; stays sharp
‧ Rust resistant and durable
‧ High speed and fast cutting
For your convenience, we have included a Buchelli conversion chart for barber/beauty blades equivalents.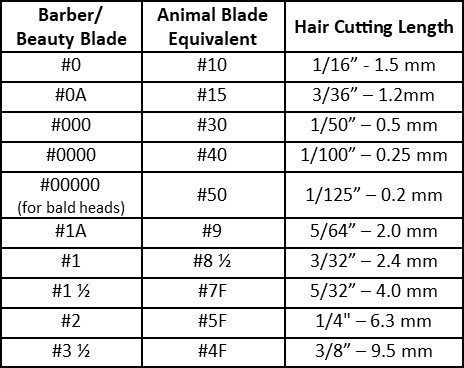 Click on the links below to view and purchase your choice of quality Bucchelli grooming equipment. High quality at a reasonable price is Bucchelli's goal, and we are happy to be able to provide that for our customers like you!